20th Century Tarot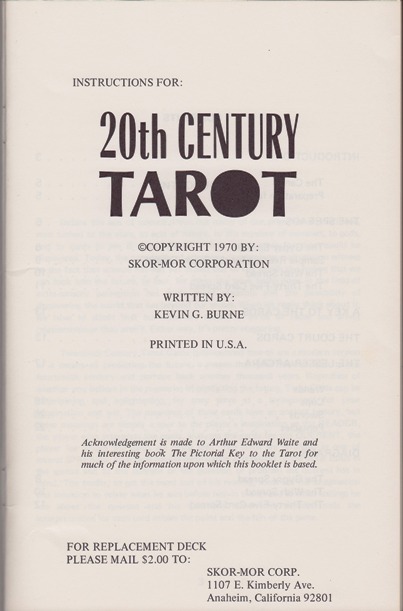 Dublin Core
Description
78 cards with a 24 page soft cover companion booklet, packaged together in a large-format, two part lidded cardboard box. No title card.

Cards measure 12 cm tall x 7 cm wide.

The card stock is thin and flexible, with a fairly smooth, mostly matte finish.

The backs have a non-reversible design featuring a candelabra.

The cards are black and white (and grey), and the art is minimalistic. The minor arcana are just pips.

Strength is 8 and Justice is 11. The Fool is numbered 0.

Suits are Pentacles, Wands, Swords, and Cups. Courts are Page, Knight, Queen, and King.

Published by:

SKOR-MOR CORP.
1107 E. Kimberly Ave.
Anaheim, CA 92801
Creator
Kevin G. Burne (writer)
No artist was credited; Burne may also be the artist, but I'm not certain.

The back of the box has a copyright statement that mentions someone named Burns (could it be a misspelling of Burne?).
Source
Listed in the Encyclopedia of Tarot, vol. I, p. 283
Publisher
Skor-Mor Corporation, California, United States
Relation
24 page companion book, soft cover
About the Original Item
Date Added

March 11, 2013

Tags

20th century, 78, b&w, pips, T

Citation

Kevin G. Burne (writer), "20th Century Tarot," The Osborne Tarot Collection, accessed February 22, 2019, http://tarot.zerosummer.org/items/show/267.

Associated Files

No files are associated with this item.