Granny Jones Australian Tarot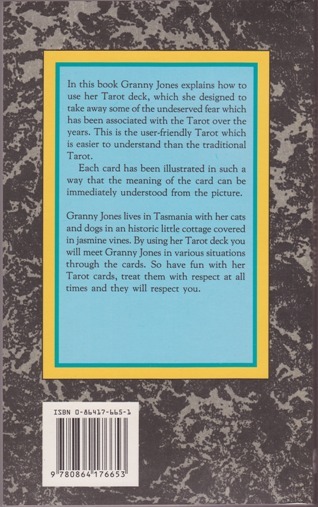 Dublin Core
Title
Granny Jones Australian Tarot
Subject
Cats
Grandmothers
Australia
Description
78 cards packaged as part of a set. The set includes a 168 page soft cover companion book, an inner tuck box for the cards, an LWB, a small spread cloth (plain black), and an outer two-part lidded set box made of very sturdy cardboard.

None of these photos are to scale, by the way -- for instance, the scans of the book cover are larger than those of the set box, but actually all the various parts of the set fit quite neatly into the set box.

Cards measure 10.5 cm tall x 7.1 cm wide.

The card stock is incredibly nice -- it's wonderful to touch and handle. Velvet smooth and super flexible, with a matte finish.

The card backs are utterly non-reversible, featuring a big drawing of Granny Jones with her cat.

Suits are Buttons, Wands, Swords, and Cups. The Courts are Page, Knight, Queen, and King.

Justice is 8 and Strength is 11. The Fool is numbered 0.

The minor arcana are fully scenic . . . as well as quirky, original, and colorful.

According to the retail price sticker on the back of my set box, this set originally sold for $29.95 (when distributed in the United States, anyway). The price sticker indicates it was distributed stateside by Seven Hills Book Distribution in Cincinnati, OH.

Creator
Rebecca Jones (aka Granny Jones)
Publisher
Kangaroo Press, Australia
Relation
168 page soft cover companion book -- "Granny Jones Australian Tarot Book" by Rebecca Jones, 1994, ISBN 0-86417-665-1
Identifier
0-86417-667-8 (ISBN on the set box)
0-86417-665-1 (ISBN for the book)
About the Original Item
Date Added

March 10, 2013

Tags

20th century, 78, Australian, G, OOP, set

Citation

Rebecca Jones (aka Granny Jones), "Granny Jones Australian Tarot," The Osborne Tarot Collection, accessed June 20, 2019, http://tarot.zerosummer.org/items/show/264.

Associated Files

No files are associated with this item.