Tarot of Casanova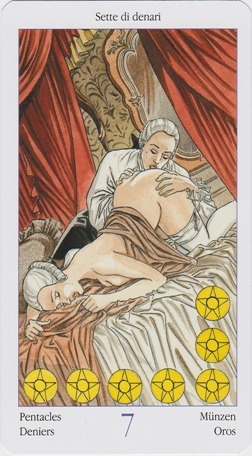 Dublin Core
Subject
Renaissance
Architecture
Italy
Erotica
Casanova
Description
78 cards + a title card and an advertising card, with a multi-lingual LWB in a standard cardboard tuck box.

Cards measure 12 cm tall x 6.6 cm wide.

Backs are reversible.

The card stock is flexible, with a very smooth, matte finish.

Justice is VIII (8) and Strength is XI (11). The Fool is numbered 0.

The card titles are printed in six languages.

Suits are Chalices, Wands, Swords, and Pentacles. Courts are Knave, Knight, Queen, and King.

The minors are scenic and many depict nude women and sexual acts.

This deck is part of the Tarocchi d'Arte series (as stated on the title card).

Note: The fact that the Death card isn't the first one shown in this case is deliberate, because of the nature of the scene.
Creator
Luca Raimondo (artist)
Publisher
Lo Scarabeo, Italy
LS
Identifier
978-8883951411