Michelangelo Tarot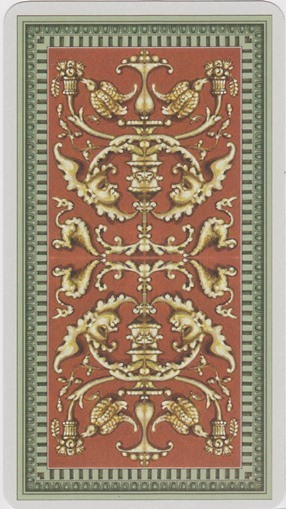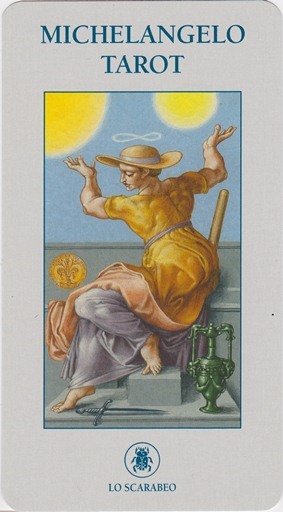 Dublin Core
Description
78 cards + a title card and an advertising card. A standard, multilingual LWB is included. The deck and LWB are housed in a standard cardboard tuck box.

Cards measure 12 cm tall x 6.5 cm wide.

Backs are reversible.

The card stock is flexible, with a smooth, matte finish.

The cards are minimally scenic and reveal some RWS influence. The suit symbols are sometimes well incorporated into the scenes, and sometimes not.

Suits are Chalices, Pentacles, Wands, and Swords. Courts are Knave, Knight, Queen, and King -- though on the cards themselves the titles are printed as Pedes, Eques, Regina, and Rex.

Justice is 8 (VIII) and Strength is 11 (XI), though no actual titles appear on any of the majors. The Fool is numbered 0.
Creator
Guido Zibordi Marchesi
Publisher
Lo Scarabeo, Italy
LS
Date
2012 (copyright on LWB)
Identifier
978-0738733623
About the Original Item
Date Added

February 27, 2013

Tags

21st century, 78, Art, LS, M

Citation

Guido Zibordi Marchesi, "Michelangelo Tarot," The Osborne Tarot Collection, accessed October 18, 2019, http://tarot.zerosummer.org/items/show/239.

Associated Files

No files are associated with this item.