Madru: Das Baum Tarot
All Titles
Madru: Das Baum Tarot
Tree Tarot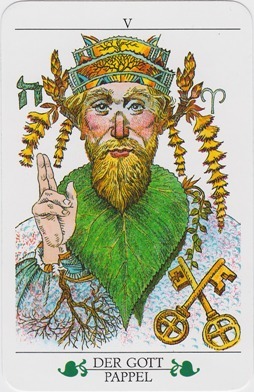 Dublin Core
Title
Madru: Das Baum Tarot
Tree Tarot
Description
22 major arcana, a title card, and 10 informational and explicative cards (serving the purpose of a LWB). Housed in a 2 piece, lidded, clear plastic case (such as the type playing cards come in).

The cards are about playing card sized, measuring 9.2 cm tall x 5.9 cm wide.

The card stock is light and flexible, with a flat matte finish.

Card backs are a non-reversible pattern of green trees on a white background.
Creator
F. Hetmann
Tilman Michalski
Publisher
Königsfurt Verlag, Germany
Königs Furt
About the Original Item
Date Added

July 18, 2011

Collection

Tags

Citation

F. Hetmann, "Madru: Das Baum Tarot," The Osborne Tarot Collection, accessed June 20, 2019, http://tarot.zerosummer.org/items/show/182.

Associated Files

No files are associated with this item.